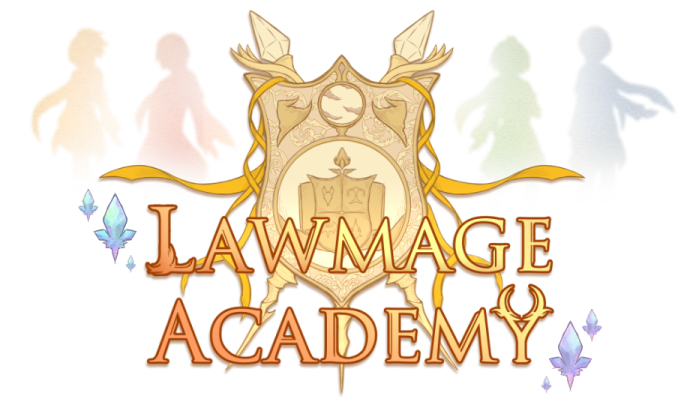 Lawmage Academy
Announcement: V0.5 Test Version Release!
---
V0.5 Test Version Release!
_____________________________________________________________________
Following the very positive feedback from you, the testers, I decided to produce more content to enrich the mechanics. V0.5 adds more classes, weapons, items, charms, books, recipes, characters, quests, and so much more! The main storyline ends at Day 44. After this, you can keep playing to explore what you might have missed or simply to enjoy the Academy and Magusgaia at your own pace. As usual, please let me know what you think by filling up the survey form:
https://docs.google.com/forms/d/e/1FAIpQLScriXalaY02Ef2smLNW_P4Lsih3u0wYTUwIGjpZBWiXPyHyyw/viewform
_____________________________________________________________________
V0.5 CHANGE LOG
New Mechanics and Reworks:
Added "Transio" to the Garden Keepers after completing the Basic Classes.
Added "Invite" to the game menu. You can now change your active party members at any time.
Added the "Job" option with the Record Keeper in the House Commons.
Added the item called "Instant Cure" that can temporarily cure "Sick". Can be obtained from Lawmage Joy in the Infirmary.
Added the item called "Coffee" that can temporarily cure "Sleepy".
Added a daily claimable item in the House Commons depending on your House: Rootbeer, Apple, Coffee, Green Tea.
Added a secret room in the Academy.
Added (2) Iron Ores when crushing boulders.
Renamed "Bat Fang" to "Fang".
Added Missions and Reports.
Added "Notes" after reading some books in the Library. These notes can be read in your room at night to gain EXP for the whole party.
Failing a boss fight in most monster hunt Missions or side-quests will send you to the Infirmary instead of causing a Game Over.
Khadir changes the prices and items he sells based on your progress in the game.
New Content:
Added more maps in Arashiya Forest.
Added "Clear Water" in Mirella's shop.
Added a new Offering in the Chapel.
Added a new recruitable characters.
Added a new area "Cafe" in the Academy.
Added a new area "Ridgemont Village."
Added new Spells and Spellbooks.
Added new Aura Skills for the main character.
Added new classes.
Added new weapons.
Added new charms.
Added new crystals.
Added new potions and items.
Added news books in the library.
Added new enemies.
Added new recipes.
Added new side-quests.
Added new states: Bleed, Sleep, Confusion, Rage, Fascination.
Added new Lost Pages. (TO DO)
Added a few gather spots for "Shrooms"
Added one more gather spot for "Oakwood" in Arashiya Forest.
Added a secret boss.
Added new NPCs and dialogues.
Improvements:
Added icons to quest titles.
Added battle effects for critical hits, evasion, and guarding attacks.
Improved the animations of weapons and some spells.
Improved the animations when destroying field obstacles.
Improved "Fairy Village" by adding more content.
Improved the "Announcement Board" in the House Commons by adding more announcements depending on your progress in the game.
Increased the selling value of weapons.
Removed the animation where allies would run to the enemy when attacking using a melee weapon.
Changed the main menu background and soundtrack.
Changed the sound for allies collapsing.
Changed the sound for damaging enemies.
Balancing:
Made balance changes to enemies and bosses.
Reduced the agility bonus when casting offensive spells.
Increased the agility bonus when casting supporting and utility spells.
Enemy attacks can now miss.
Aura Skills are now certain hit types, meaning they cannot miss.
Increased EXP and Gold drops for all enemies.
Slightly changed the composition of some monster mobs.
Slightly revised skillset of some characters.
Bug Fixes:
Fixed over 40 bugs, both minor and game breaking bugs.
Files
Lawmage Academy WINDOWS V0.5.zip
631 MB
Jul 20, 2019
Lawmage Academy MAC:OS V0.5.zip
766 MB
Jul 21, 2019